Madison's 1895 Railroad Station Museum reopens on March 1st!
As the largest national contiguous historic landmark district, our river town has so much to explore from days past. Particularly, the railroad was a huge factor in how Madison flourished to become what it is today! The Indianapolis Children's Museum features a miniature town of Madison on permanent display that highlights the famous historical Reuben Wells Steam Locomotive.
Click the video below to learn more about how pivotal Madison's location was with trading and transport and how the Reuben Wells overcame the obstacle of the infamous Madison hill!
Next time you're visiting Madison, make Heritage Trail part of your trip! Explore parts of the old railroad that once wound its way through the historic hillsides of Madison. Be sure to bring your camera; there are plenty of picture-worthy shots along this trail! Also don't forget to stop by the Railroad Station next to the History Center. Travel back in time as you step into this 1918 authentically restored red caboose!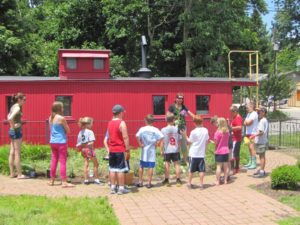 Wanting to dig even deeper into Madison's roots in the railroad? Click the video below to view the information-packed documentary "Story of the Madison Railroad."