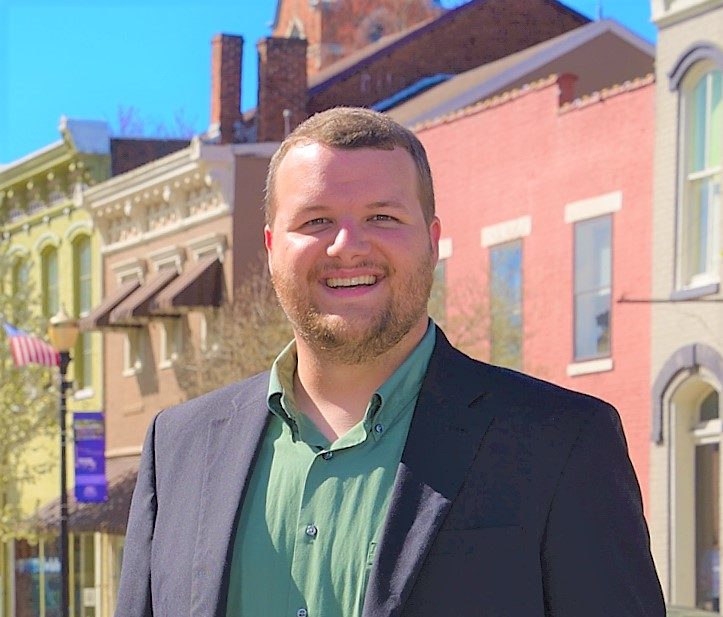 VISIT MADISON NAMES EXECUTIVE TOURISM DIRECTOR
 MADISON (Jefferson County), Ind. – June 27, 2022. Andrew Forrester has been hired as the new executive tourism director of Visit Madison, Inc. (VMI), the destination marketing & management organization for the City of Madison and Jefferson County area.
Forrester is currently Director of Intergovernmental Affairs for Indiana Governor Eric J. Holcomb, a position he has had since September 2019. Before that, he was Community Relations Director under Madison Mayor Damon Welch from 2012 to 2019. Forrester earned a Master of Business Administration from Indiana Wesleyan University in 2015 and a Bachelor of Arts in Political Science from Wabash College in 2011. He is a 2007 graduate of Madison Consolidated High School. Forrester and his wife Kendra (Morin) have been married since 2016 and have a two-year-old son, Kenton.
In February 2021, VMI faced covid-related challenges that led to the executive tourism director's layoff. Since then, the VMI board of directors restructured the organization, and regrouped on how this organization has and will continue to impact the over 41-million-dollar tourism industry in Jefferson County/Madison. In the interim, Lucy Dattilo, VMI Board President, served as executive director with the assistance of executive marketing director, Sarah Prasil.
Dattilo stated: "The Visit Madison Board of Directors has spent several months searching for just the right person to lead our organization and Jefferson County/Madison's tourism.  Andrew Forrester is that person.  The only way to know the true capacity of tourism in Madison is having the right people in the right place.  Andrew is a kind, intelligent, and passionate man. The VMI board looks forward to working with a person of Andrew's caliber to move our community in a positive direction."
As executive tourism director, Forrester will be responsible for but not limited to overseeing daily operations of the VMI visitors center, working directly with the board on policymaking, organization strategies, and community leadership; networking with tourism partners; strategic direction with VMI departments (i.e., marketing, events) and product development.
Andrew expressed, "I am excited for this opportunity to lead Visit Madison's talented tourism team. I am ecstatic about returning home to serve Madison in this capacity, while bringing the knowledge and experience I've gained working with local officials from across Indiana. I love promoting and sharing Madison with the world and I look forward to working with the Visit Madison Board, Jefferson County Board of Tourism, City and County elected officials, community & economic development leaders, and business owners to promote Madison/Jefferson County as a world-class destination for a day, a week, or a lifetime."
As Forrester makes his transition back to Madison, Indiana in the coming weeks, an official start date will be determined.
Visit Madison, Inc. is the destination leader; responsible for operating a full-service visitors center, tourism marketing and promotion to visitors and groups through advertising campaigns, its website (VisitMadison.org), social media and more. Funded by a 5% innkeepers' tax visitors pay on lodging, the organization's mission is to improve the quality of life and economy in Jefferson County by increasing visitation and providing an outstanding visitor experience. The leisure and hospitality industry's typical annual economic impact is 41+ million dollars, supporting over 500 private sector jobs in Jefferson County.
Any questions can be directed to Lucy Dattilo, VMI Board President via email ldattilo@madison-in.gov.
##