CAN YOU ROCK, REGIONAL SINGER CONTEST MADISON'S GOT TALENT AT MAD PADDLE BREWSTILLERY

CAN YOU ROCK, REGIONAL SINGER CONTEST MADISON'S GOT TALENT AT MAD PADDLE BREWSTILLERY
March 12, 2022 @ 7:00 pm

-

10:00 pm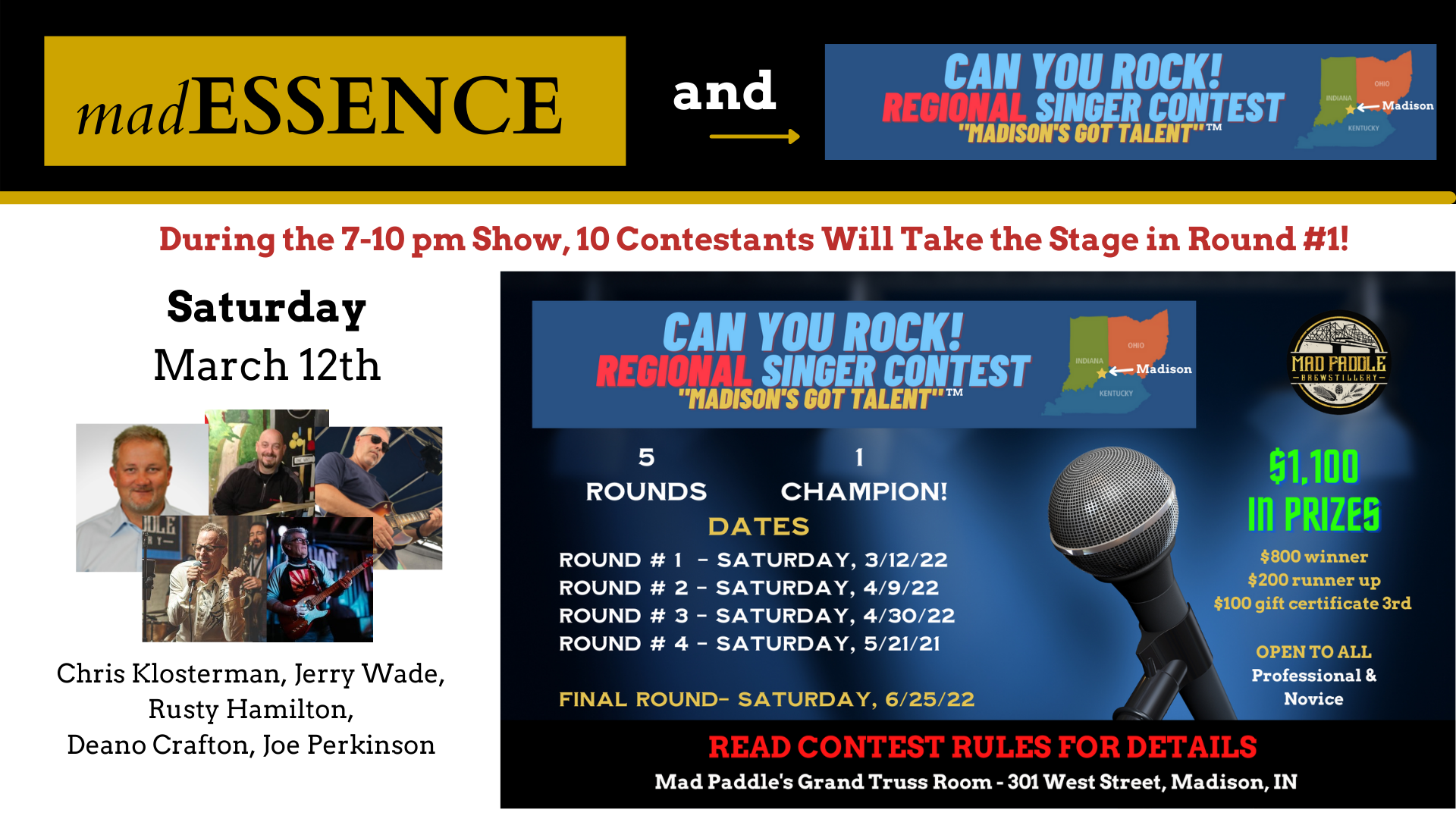 "CAN YOU ROCK, REGIONAL SINGER CONTEST
MADISON'S GOT TALENTTM"
This is a three state (IN, OH & KY), regional search for the BEST SINGER.
 PRIZES
$800 grand prize
$200 for runner up
$100 Mad Paddle gift certificate for third place
 PROFESSIONALS AND ROOKIES – COME ALL!
Contestants are limited to individuals 18 years and over.
Already an accomplished singer, bring your talent to the Mad Paddle stage and compete against pros and novices for $1,100 in prizes.
Already a pretty good Karaoke singer and think you are ready to compete at the next level?…this is your chance!
 CONTEST RULES
 To enter, send your video link to:
 HOW TO ENTER – SUBMITTED VIDEO AUDITIONS
All contestants must submit an audition video. It does not have to be a professional production, as we are simply listening and watching you sing.  You can do it on your iPhone!
This needs to be uploaded to your own Youtube/Vimeo channel, or provide us a link to an existing video on Facebook, YouTube, Vimeo, etc.
 SING WITH A LIVE BAND (Mad Paddle's madEssence House Band)
This is not singing to Karaoke backing tracks. You will be singing with a live band!
LENGTH OF CONTEST
The contest runs for four rounds, with a final championship round after that.
Round # 1 – Saturday, 3/12/22
Round # 2 – Saturday, 4/9/22
Round # 3 – Saturday, 4/30/22
Round # 4 – Saturday, 5/21/21
Winner Chosen – Saturday, 6/25/22
 EACH ROUND WILL HAVE ONE WINNER
Each contestant can perform one song in the initial rounds
The winner of each round is guaranteed a spot in the finals on June 25th.
The winner of each round is required to come back and sing in the rounds following their win, in order to be secured a spot in the finals on June 25th.
If you have won a previous round, you can sing a different song when you return to later rounds
 NUMBER OF CONTESTANTS EACH ROUND
Round # 1 – 10
Round # 2 – 9 (winner from round # 1 returns)
Round # 3 – 8 (winners from round # 1 and # 2 return)
Round # 4 – 7 (winners from round # 1, # 2 and # 3 return)
 CHAMPIONSHIP ROUND
Will consist of the winners from each round (4 in total)
Each singer will perform two songs
 SCORING (EACH ROUND AND FINALS)
The five core members of the Mad Paddle madEssence House Band will each score each singer from 1-10, for a total score range per singer of 0-50 points.
An all or nothing CROWD APPLAUSE score of 17 will go to the winner of each round.
Order of performance will be determined by random drawing prior to each competition.
Decisions of judges are final.
 STRATEGY
Participating and winning in the early rounds guarantees a spot in the finals and allows performers to build fans heading into the finals.
The all or nothing CROWD APPLAUSE score of 17 plays a critical role in determining each rounds winner. Example: A singer might get across the board 10's from all 5 judges for a score of 50 from the judges, but not win the 17 CROWD APPLAUSE points. If another singer gets an all 7's from the judges (judge total 35) and wins the 17 CROWD APPLAUSE points, their total score equals 52 and they are the winner.
Summary: the winner will likely be the BEST singer that brings the BIGGEST and LOUDEST fans!
 PERFORMING
This is not Karaoke and there will be no screen with words.
You need to have the words of your song memorized.
You can use your phone or iPad to read words, but that will likely result in a lower score from the judges.
We are judging your singing.  If you play an instrument, that is allowed, but recognize that you are being scored on your overall vocal performance and stage presence.
 SONG SELECTION
There will be approximately 150-200 choices for you to choose from, primarily from the 60's-90's time frame.
For the final, championship round, the band is willing to consider learning a song that is not on the list, but this is not guaranteed.
 GRAND PRIZE
The winner receives $800 grand prise and the opportunity to be a future guest singer at a show with the madEssence House Band at Mad Paddle.
The winner will be declared the Champion Singer in the IN/OH/KY region and this will be publicized across a variety of social media.
To enter, send your video link to: