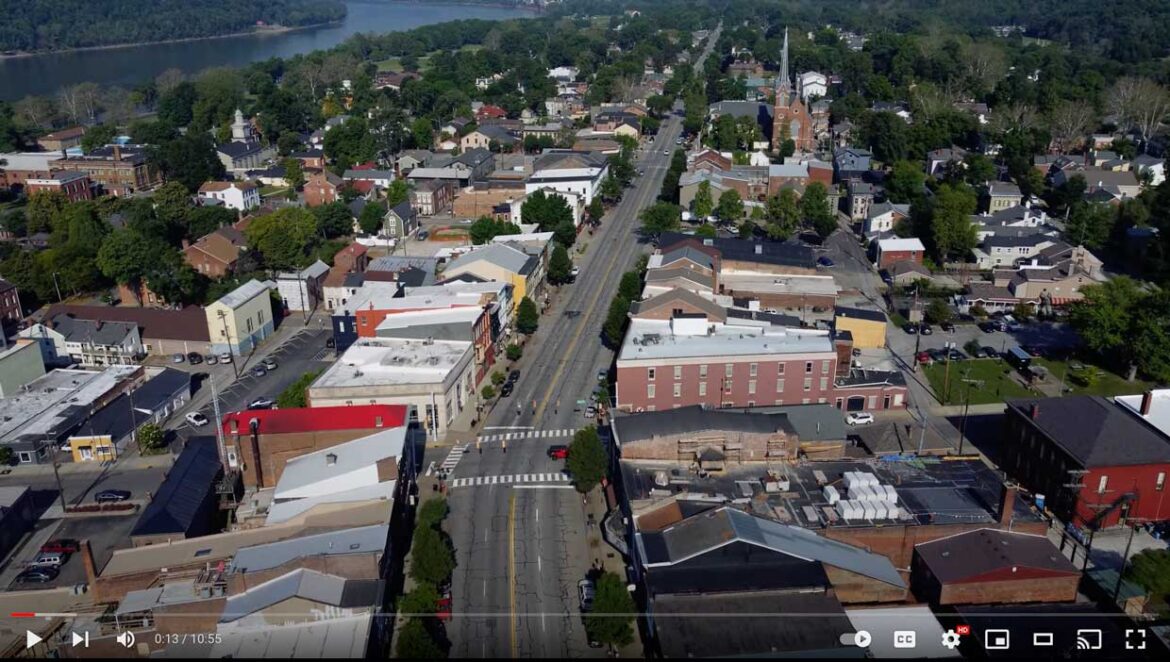 Might we remind you that we are the largest contiguous in the U.S.? Travel vloggers 'The LKS Address' did an amazing job highlighting architecture in and around our 133 historic blocks! ' !
Check out vloggers Kristin and Danny Adams weekend trip to Madison! Boasting over 50k followers on YouTube, this family has truly captured the beauty of Downtown Madison. Their jam-packed itinerary highlights everything you can fit into a weekend in our lovely town including Clifty Falls State Park, Gallery 115, History Center, Red Roaster, Broadway Fountain, Shooters, Scoops Ice Cream Shoppe, and much more!
Madison, Indiana is a beautiful rivertown nestled on the Ohio River, midway between Louisville, Kentucky and Cincinnati, Ohio. We are the largest contiguous National Historic Landmark District in the United States with 133 blocks. Closer than you think, Madison is only about 75 miles from Cincinnati, and a great getaway- for the family, couple or friends! There's lots to see and do, from architecture, history, art, outdoor adventures, nature, shopping, antiquing, festivals to of course eating! Plenty of charming historic guest houses, Airbnb's, Bed & Breakfast's, Inn's and hotels to choose from too! Go to www.VisitMadison.org today and plan your getaway!
Madison, Indiana – Springtime blooms – Morning, Noon, & Night!
The Midwest's most beautiful river-town boasts the largest contiguous National Historic Landmark District in the United States! Experience Madison, Indiana today!
From innovators, and engineers, to architects, painters and everything in-between Madison, Indiana is historically creative. Our historic district, state park, riverfront, skyline, architecture, festivals and more, often attract the camera lens, paint brush and eyes. We are a thriving community of acclaimed local artists, and welcome visitors to come be inspired. The Madison Area Arts Alliance is a force that has deep roots into the arts of this river-town, and is an agency that nurtures, informs, and educates the public the importance of the arts. Many organizations have supported this initiative and the #ArtsHereNow movement is alive. Watch below, see why Madison is 1 of only 10 Indiana Arts & Cultural Districts by the Indiana Arts Commission; learn more about the Switch Box Project and more importantly, put us on your list to visit!
Check out this episode of Route 44 with Gretchin Irons. Prepare for 30 minutes of jam-packed stops around downtown Historic Madison!
WHY EAT LOCAL? Local, independently owned and operated restaurants provide the soul and distinctive flavors of food that help define a sense of place. Madison is proud to boast over 35 eateries in our downtown Historic District and Hilltop. From the oldest tavern in Indiana, the best burgers in town, international offerings, steak houses to the many cafe's and galleries that bring their own style and flare to our beautiful city. Watch this showcase of all the local eateries and learn a little more about 3 of the many treasured establishments in Madison, Indiana.
Enjoy your cup of joe? Learn more about what make the cafés in Madison, Indiana so special ~ this will surely bring you comfort!