2-Day Exhibit & Sale | Artwork of Larry Rudolech

2-Day Exhibit & Sale | Artwork of Larry Rudolech
August 27, 2022 @ 10:00 am

-

August 28, 2022 @ 5:00 pm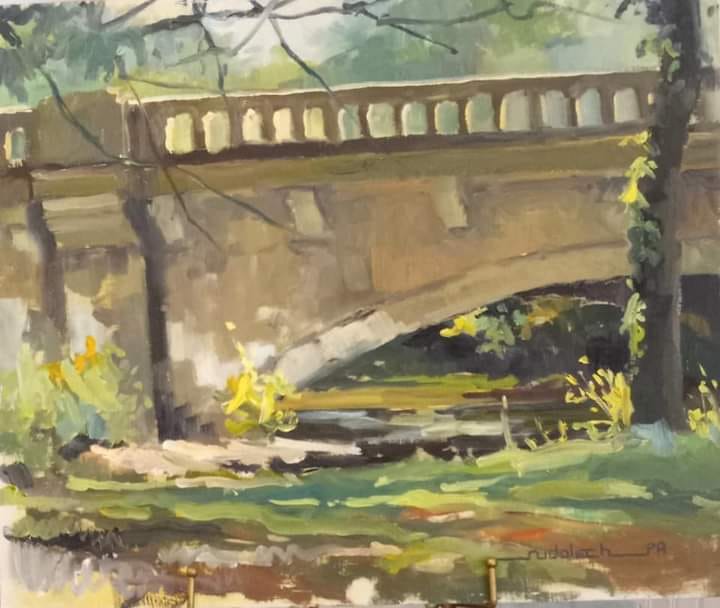 Many, many paintings by the amazing artist Larry Rudolech will be offered for sale, Sat, Aug 27 10am-5pm & Sun, Aug 28 10am-5pm at the JCHS History Center, 615 W. First St. Madison, Indiana–over 300 paintings framed, unframed and all original work.
.
ABOUT LARRY RUDOLECH
Lawrence "Larry" Rudolech spent much of his life in Madison, where he was born, with
the last thirty-two years in Hanover. In his youth, Rudolech spent most of his time at the local
Boys Club in the arts and crafts room, where he fell in love with creating artworks of all kinds.
While a student at Madison Consolidated High School, he met a mentor that would change his
life, artist, teacher & coach, Lou Knoble. Knoble gifted the young artist his first set of oil paints
and the encouragement he needed.
Before Knoble helped him realize he could pursue a career in the arts, Rudolech
assumed that he would never be going to college because his family didn't have enough money.
Until Knoble informed him that his student would, in fact, be attending an art school after
graduating high school. Knoble, MCHS art teacher Gary Chapman and John Paul at the
Madison/Jefferson County Boy's Club, teamed up to set Rudolech on his path as an artist. It
was thanks to his national award and scholarships, including the prestigious Julius Epstein
Competition that the dream became a reality. He decided to attend the John Herron School of
Art in Indianapolis after having seen their fantastic drawing room. He went on to earn a Bachelor
of Fine Arts in Visual Communication there in 1972. He pursued a career in Graphic Arts,
spending more than forty years of his life as a Graphic Designer and Illustrator as an advertising
illustrator with Concepts and Adpro, with the last fifteen years running his own design and
illustration business. He worked in all the facets of commercial art, from typesetting, to printing,
and advertising agencies.
During this time, he simultaneously pursued his fine art as he worked on three hundred
or more paintings a year, showing his works at every competition and exhibition that he could. In
his later years, as he perfected his skills as an impressionist plein-air artist, he loved how the
technique of impressionism allowed viewers to "finish" the painting with their minds' eye. In his
artistic pursuit of beauty, he was able to capture not only the wonder and atmosphere of the
landscape he was painting but express his own emotions in his execution of the piece. In his
years of painting, he mastered the art of depicting light in his works, a skill much admired by his
fellow artists. The resulting works transcend literal depiction, giving the work an almost spiritual
quality.
As a full-time artist, Rudolech won many awards in both local and national shows and
painting competitions in all but 13 states, including in plein air events around the country. He
was recognized by the American Impressionist Society, the National Oil & Acrylic Painters'
Society, and the Hoosier Salon, as well as a member of the Brown County Art Guild. It was his
goal to paint and enter plein air competitions in all fifty states, and he traveled in his van
equipped for camping often with his friend, artist Wyatt LaGrand. Most recently the two painted
in Washington state and Alaska, and exhibited their work together in Nashville, Indiana.
LaGrand has been continuing the quest since his friends passing, hoping to complete the
journey in Larry's honor.
The transcendent artwork of Larry Rudolech is a legacy left behind not only for his family,
but for all of Jefferson County, as he takes his place in history as one of the finest painters our
region has produced.
The exhibition at The Spot is a preview of a much larger exhibition and sale to be held at
the History Center-Jefferson County Historical Society on August 27th and 28th.
Madison Area Arts Alliance is a non profit organization that works to nurture a strong Art Centric
presence in the Madison area, for additional information visit madisonareaarts.org or join us on
facebook.