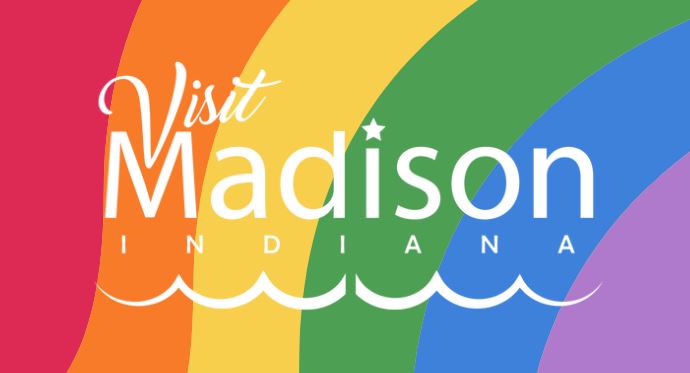 Matt Chandler, owner of The Chandler Collection, proud Madisonian and LGBTQ+ member and advocate, wrote this blog to celebrate diversity and promote inclusion in Madison and Jefferson County in honor of Pride Month! Check it out below!
.
When we think of LGBTQ+-friendly destinations, big cities like New York City or San Francisco often come to mind, but here in Southeastern, Indiana, Hoosier hospitality is thriving and so is the LGBTQ+ community.  Welcome to Madison, Indiana.
As an LGBTQ+ business owner, inclusivity and the freedom to explore small-town America while feeling comfortable being your authentic self are major factors when deciding to start a business.  My husband, Daniel and I have been managing short-term rentals in the Madison area for five years.  We own and manage two cabins near the Canaan area, Cabin on the Ridge and Cabin on the Ridge: The Sequel.  My mother and I also manage an A-Frame home, The Artist's A-Frame on the hilltop – minutes from Downtown Madison.
In our experience hosting thousands of guests from different backgrounds and different places, one thing stands true: Madison is quickly becoming a place for all.  The encouragement in hosting a diverse demographic at our short-term rentals is a sign that Madison is growing and most of all, welcoming.
Here in this historic river town you'll find many LGBTQ+-owned businesses, not to mention breweries, wineries, river views, rolling hills, hiking, waterfalls, festivals, historic sites, and quirky shops – all within reach of Cincinnati and Louisville.  These wonderful amenities aren't the only reasons we said "yes" to Madison.
I'll never forget the first time while walking down Main Street that I truly felt represented as a gay man in Madison.  I was strolling past the Village Lights Bookstore, one of the most unique and inviting bookstores in our region – when I noticed a beautiful rainbow display of LGBTQ+ literature.  I looked to my husband and said, "Madison is moving forward."  It wasn't long after that encounter we began looking for real estate to expand our business. The idea for "The Chandler – Madison's Boutique Hotel" was born.
As we move forward with the hotel project, we have discovered many other LGBTQ+ businesses and entrepreneurs.  One of our go-to businesses is James Dell, a men's clothing boutique with unique attire and accessories!  We also enjoy Morris and Main's hidden speakeasy, offering a curated beer and wine menu. On the East side of Main Street you'll find WOW What a find!, showcasing antiques and pre-owned designer furniture.  We've even sourced a couple of specialty pieces for the The Chandler Hotel here.
This is just a sampling of the diversity you'll find in Madison. From City Hall to Mayor Bob Courtney, from Visit Madison to The Madison Main Street Program.  This town has rolled out the red carpet for us, or maybe the rainbow carpet, who knows?  What we do know, is Madison is on the move! If you'd like to learn more about The Chandler Collection or The Chandler Hotel please follow us on Facebook or Instagram @thechandlercollection.
– Matt Chandler