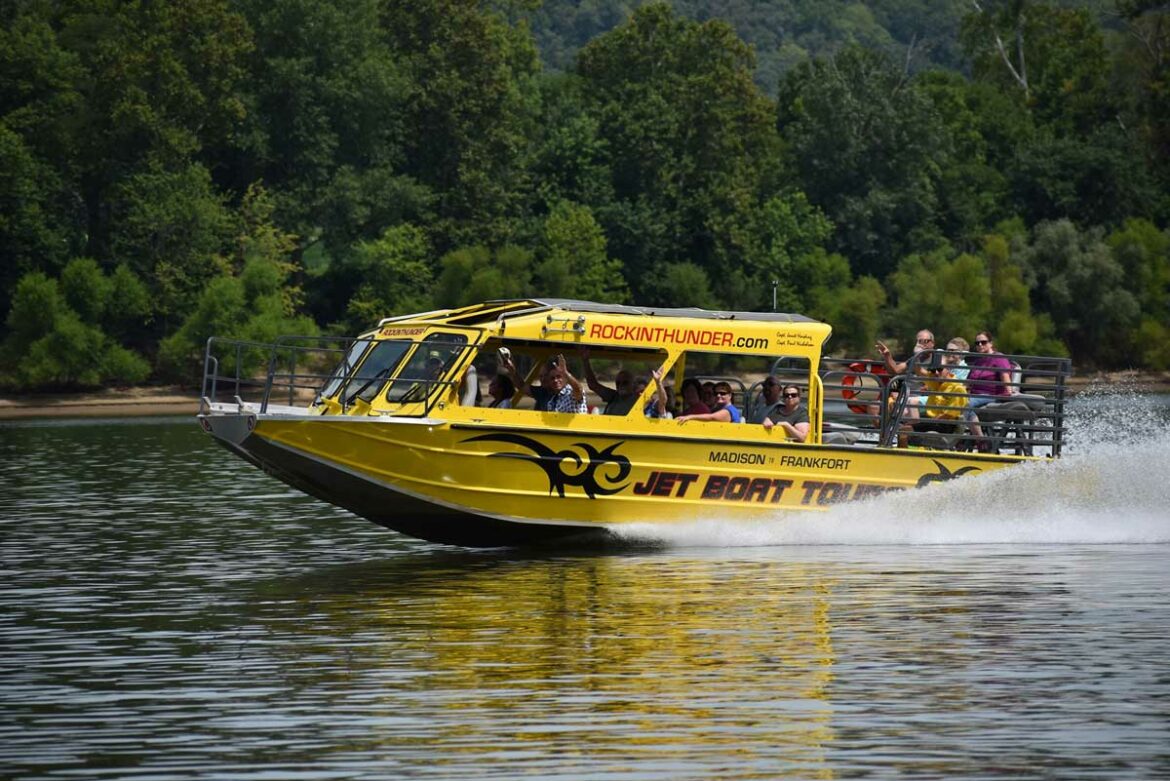 Never Stop Smiling When You Ride with Rockin Thunder!
You are bound to walk away with a smile on your face and memories of laughter when you book a riverboat tour with Rockin Thunder River Tours on the historic Ohio River. Rockin Thunder River Tours is full of history and fun.
Rockin Thunder River Tours started in 2012 when Captain Paul Nicholson and Janet Harding came down from Indianapolis to Madison for a weekend and fell in love with the small town. They stayed up all night trying to find a way to make a living in Madison so that they could live here. The couple was shocked that there were not any riverboat tour rides, so they decided to start Rockin Thunder River Boat Tours.
There are three different tours that are provided by Rockin Thunder. The scenic river tour, midweek lunch excursion, and the two-day Kentucky river adventure, which travels 155 miles and is sold out by March. Each tour is limited to about 16 people.
Stories You Won't Believe
The Scenic River Tour goes downriver to Bethlehem, Indiana and covers a total of 40 miles in the span of two hours. On this tour you see things that you will not see from the road! The boat stops 10-12 times, plenty of time for a story, good humor, and a look at the wildlife.
These fun stories include the barges, the start of the town of Bethlehem, an abandoned 8,000-acre (about half the area of Cleveland, Ohio) plantation, Harlan Hubbard, and the pirates of The Ohio River. Captain Nicholson tells their stories, cracks jokes, and constantly keeps you smiling.
There are many animals that you get to see on this tour that were exceedingly rare even just ten years ago. Bald eagles were gone for six years, river otters for 75 years, and beavers for 100 years. The captains will stop the boat whenever they catch sight of any wildlife so that the passengers can get an unobstructed view and a picture.
Now you can see all these animals, especially the bald eagles, which are seen on almost every tour. Along with some less frequent visitors, bobcats or black bears! There were sightings of one two years ago in Henry County.
What an exceptional opportunity! Be quick to book your tour today. These trips are usually sold out two weeks in advance.
Seafood and International Cuisine on the Ohio River
Without the interruption of any other boats, this tour will take you down to the outskirts of Louisville and you get the same amazing stories, history lessons, and beautiful views of wildlife except for longer on the mid-week lunch boat tour!
Rockin Thunder River Tours are known for their interesting and fun river stories as well as the humor that they incorporate in them. These include stories of pirates who preyed on river boats in the early 1800s and buried treasure at the shore, an abandoned townsite where New London used to be, and plow handle point. As Captain Nicholson tells you about the river's history, you will have the chance to view wildlife on the riverside.
When you get to Prospect, Kentucky you will arrive at Captain's Quarters Riverside Grill—an excellent indoor/outdoor restaurant found right on the river. They have a wide range of dishes, from delicious seafood to international cuisine, to enjoy before you head back to Madison.
Together Captain Janet Harding and Paul Nicholson strive to provide a wonderful experience for their guests. Captain Nicholson said, "My perfect day is exploring a new stretch of river with fun loving guests. You will laugh and hear some fascinating stories when you ride with me." Sign up for a tour full of history and laughter. Make sure that you book your tour before your visit to Madison as these tickets are usually sold-out months ahead of time!
For more information or to book a tour with Rockin Thunder click here.
By Lydia L. Goebel – Guest Blogger