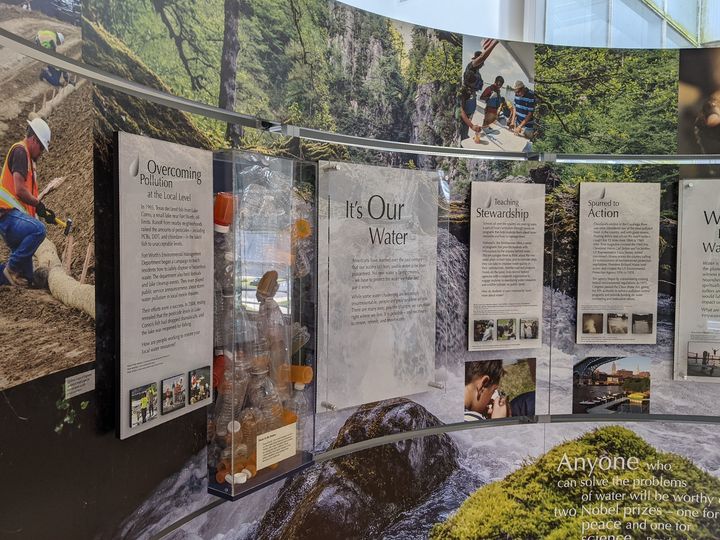 "Water [is] an essential component of life on our planet, environmentally, culturally, and historically." – Indiana Humanities The Smithsonian's traveling exhibition Water/Ways is now at Jefferson County Public Library! Madison was chosen along with five other Indiana counties to host this exhibit. Water/Ways seeks to educate on the scientific and cultural significance of water throughout human history. With Madison being a river town, this is certainly relevant for our community. The affluence of early Madison can largely be attributed to the Ohio River because of steamboat travel and trade. This exhibit is for all ages, and it's great for individuals, groups, and families! Check out this WDRB News feature to get a quick glimpse at a few of the exhibit features. Learn more about the exhibit with this "sneak peek" video from Water/Ways below:
There are special events on the following days:
Water/Ways Grand Opening, Reception, and Open House (Jan 8, 2022)
Art Show (Jan 8-Feb 20, 2022)
Jefferson County Historical Society Local Water Artifacts & Memorabilia Exhibit (Jan 8-Feb 20, 2022)
Afterhours Film ~ Madison, Miss Madison & Hydroplane History (Jan 11, 2022)
Water Wonders ~ Explore with Water (Jan 15, 2022)
Water Wonders ~ Build-A-Boat (Jan 22, 2022)
Water Resources of Jefferson County; A Geologist's Perspective (Jan 25, 2022)
Crossing Barriers: Uncovering the Amazing Carter Family (Feb 1, 2022)
Water Wonders ~ Build-A-Bridge (Feb 5, 2022)
The Underground Railroad in Jefferson County, Indiana: An Interracial Partnership Ahead of Its Time (Feb 8, 2022)
Explore the Underground Railroad (Feb 12, 2022)
The exhibit will be in Madison from January 8th, 2022 until February 20th, 2022 during normal library hours and on Sundays and Martin Luther King Jr. Day from 12:00 p.m. to 4:00 p.m.
Madison Main Branch location: 420 West Main Street, Madison, IN 47250
Regular Library Hours:
Mon – Fri: 10a-7p
Sat: 10a-4p
Sun: Closed