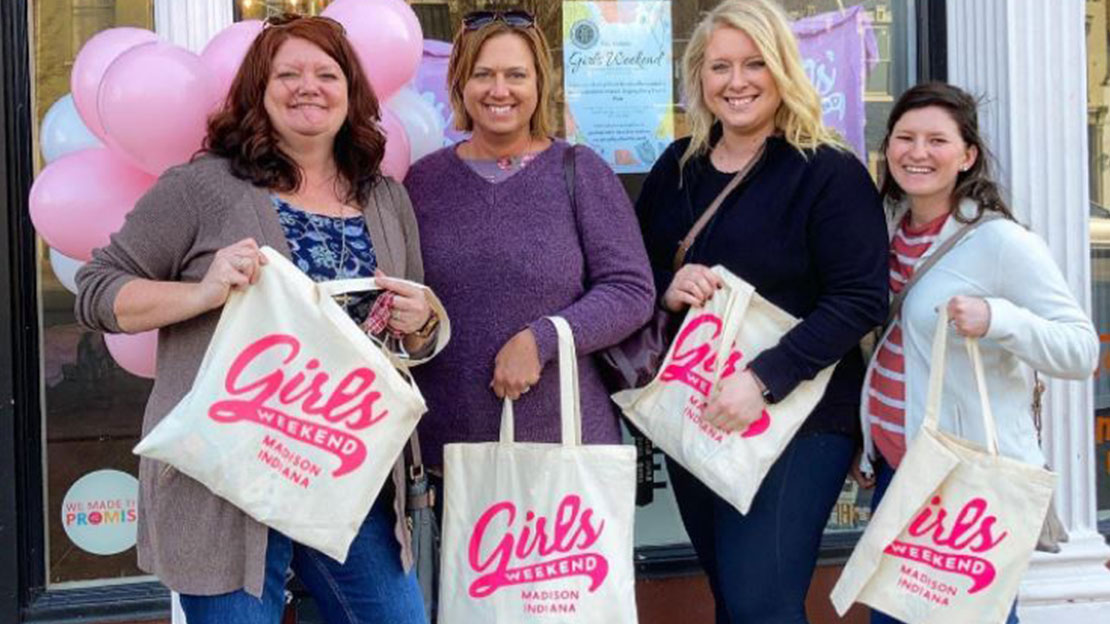 Ladies, do you have your golden ticket for an incredible girls weekend? If you haven't already, you can still snatch a $25 Golden Ticket! Grab your gal pals and head to Madison during the first weekend in March for exclusive shopping deals and discounts, a glamourous fashion show, delectable brunch and more! Tickets are on sale now; click here to claim yours! You'll start your weekend off on Friday at the Fairfield Inn & Suites to check in from 9am-6pm. Saturday check-in will be at Little Golden Fox from 9am-6pm. Take a look at Girls' Weekends past to get a sneak peek on all the fun you're in for!
Girls Weekend Goers Enjoying the Annual Fashion Show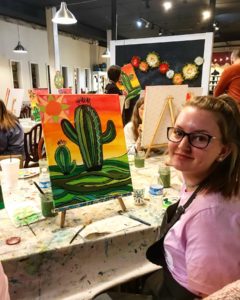 Canvas Painting at Little Golden Fox
Where should I stay during Girls Weekend?
Madison is known for its unique lodging experience opportunities! Looking to spend your weekend in a cozy historic bed & breakfast? How about a beautiful guest home to call your own for the next few days? You can never go wrong with a stay in one of our exceptionally accommodating hotels and inns. Click here to learn more about planning your memorable stay in Madison!
Not able to snag a ticket?
Don't fret! There are still plenty of things to do this weekend in Madison for the ladies.
On Friday, spark your creativity at Little Golden Fox with a ceramic mug painting workshop! Level Up your weekend at 612 West Main Street for tours of a gorgeously redone historic home, magical meditation, transformational life coaching, makeovers, or a massage Friday through Saturday! End your day with a relaxing yoga nidra session at Studio Be to rest and restore before another fun-filled day ahead in Madison!
Saturday morning, start out at Old Tyme Marketplace for a delicious breakfast spread, insider shopping deals, and more! Don't forget the delectable Begonia Bagel Brunch where you can enjoy New York-style bagels, mimosas, and exclusive deals on inventory! There's plenty of opportunities to zen out with a yoga practice; go to Mad Paddle Brewstillery to have fun on and off the mat with local brews or swing over to Studio Be. Don't forget about the Farmers Market on Broadway! Have you ever wanted to be a cocktail connoisseur? Sign up for the Mixology Class at Richwood on the River for Saturday evening, and afterwards enjoy a dinner and dance party! Before you end your weekend, check out The Madison Music Studio to record your favorite song. See more events below!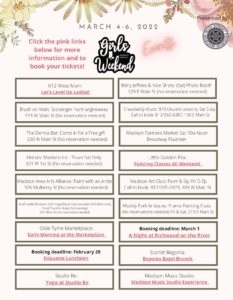 Madison is always a great destination for an idyllic getaway with the girls; check out our Girls' Trip itinerary for more inspiration.